This Care & Maintenance Guide
While your Cascade vinyl windows and doors require little care and maintenance, it is recommended that you clean and inspect them at least once a year to keep things operating smoothly and to protect your warranty. This brochure outlines how to go about keeping your windows and doors properly cleaned and maintained.
Glass Care
Regular cleaning of your insulating, low-e or heat reflective glass is a relatively easy, this is an important part for maintaining their effectiveness and to ensure the best performance over the life of the product.
DO'S:
Clean glass with a mixture of mild soap and water or glass cleaner. Rinse completely with clear water and dry with a soft cloth or squeegee to help avoid water spots.
When cleaning exterior, multi-story windows, begin with the upper story and work down.
Clean and rinse one area at a time.
DON'TS:
Do not power-wash windows or use a high pressure hose. This can damage the glass seal or cause water to enter the structure.
Don't allow water or cleaners to puddle or collect at the glass edges near glazing materials.
Avoid cleaning in direct sunlight or in temperatures too hot or too cold.

Never use abrasive cleaners, petroleum based solvents or chemicals on glass as they can damage the glass, insulated glass seal or other window components.
Never use metal tools, razor blades, abrasive pads or other sharp objects as they can damage window surfaces, scratch glass and remove exterior glass coatings.
Do not scour and avoid excessive rubbing or over cleaning.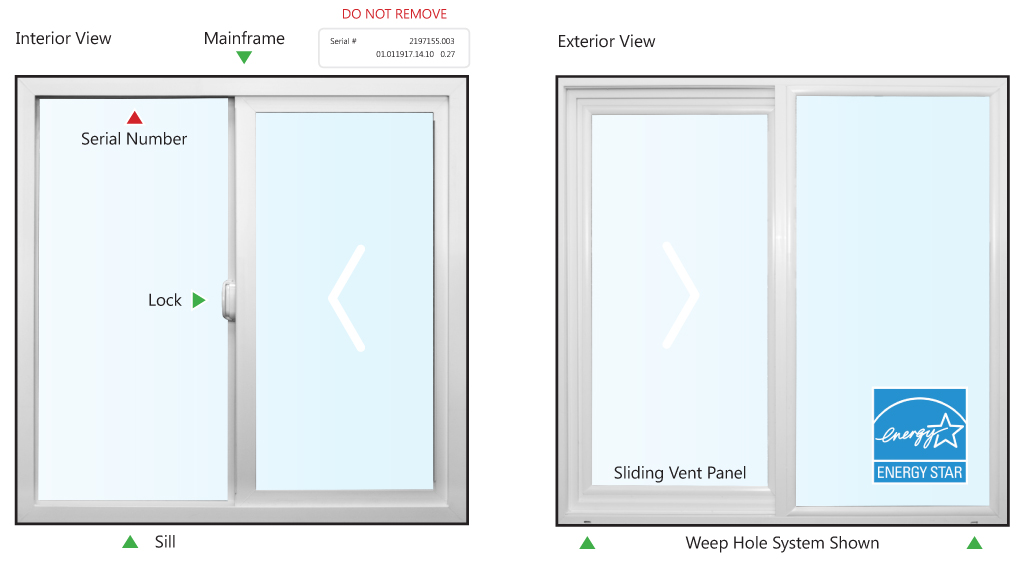 Frame Care
Protecting the frames of your windows and doors is just as important as cleaning the glass. While the vinyl or aluminium material naturally prevents penetrating stains from dirt and grease, it is still important that you clean and maintain to protect the life and extend the beauty of your windows and patio doors.
DO'S:
Vacuum soil and debris from the sill or track prior to washing.
Windows and doors have weep holes. Make sure they are clear of obstruction and draining properly. See Window Weeping/Drainage Systems for more information.
Use a mixture of mild soap and water.
Rinse completely and dry with a soft cloth.
Use a cream wax cleaner or polish for more stubborn stains.
DON'TS:
Never use abrasive cleaners, solvents or chemicals as they may damage the finish or other components.
Don't use a hard bristle brush on finishes.
Don't allow water or cleaners to puddle or collect on surfaces and crevices.
Painted Frame Care
Our painted vinyl products are painted with a superior painting process that is highly durable and requires the same maintenance as our standard frames. However, it is best to remove contaminates and debris as quickly as possible. Soap and water are recommended.
Hardware Cleaning and Lubrication
Hardware parts, tracks and rollers should be inspected and lubricated annually. More frequently if in high moisture or a salt air environment.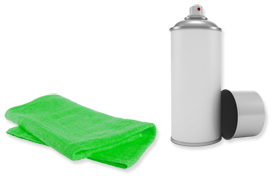 DO'S:
Use mild soap and water on a soft cloth, rinse and thoroughly wipe dry.
For stubborn dirt use a soft bristle brush.
Use a dry silicone spray on hinges, rollers & sash where frame contact is made.
Apply a coat of high quality, non-abrasive car wax.
DON'TS:
Never use abrasive cleaners, solvents or chemicals as they may damage the finish or protective coatings.
Screen Care
Because our screens are made of advanced materials, it is not necessary to remove the screen for the initial cleaning. You can simply vacuum clean or gently wipe down with water and a soft cloth. For a more detailed cleaning:
Gently scrub with a soft bristle brush and mild soap and water.
Rinse clean.
Reinstall screen when dry.
Rolling screen doors may need to be adjusted to run smoothly. Simply use a screwdriver at both the top and bottom corners to make the adjustment.
Note! Screens are not covered under Cascade's Lifetime Warranty.
Sliding patio door roller adjustment with plug removed. Raise or lower your door, based on operation and leveling of panel.
Patio Door Care
Most moving parts, including window and patio door vent panels, require annual inspection and lubrication to ensure smooth and easy operation. In high moisture or salt air environments, more frequent cleaning and lubrication is necessary.
DO'S:
Vacuum soil and debris from the sill or track prior to washing.
Windows and doors have weep holes. Make sure the are clear of obstruction and draining properly. See window weeping/drainage systems for more information
Use a mixture of mild soap and water.
Rinse completely and dry with a soft cloth.
Cream wax cleaner or polish can be used for stubborn stains.
Clean and lubricate the track system.
DON'TS:
Never use abrasive cleaners, solvents or chemicals as they may damage the finish or other components.
Don't use a hard bristle brush on finishes.
Don't allow water or cleaners to puddle or collect on vinyl surfaces and crevices.
Water Management

Vinyl and Aluminium windows and patio doors are not subject to moisture damage; however, damage could develop in the structure around the unit if water does not drain properly from the sill area to the exterior. A simple drainage system of "weep" holes are designed into the frame to allow for accumulated water to drain to the exterior of the dwelling. While it is normal to see some water in the bottom track or sill with wind driven rain, these water drainage pathways must be kept clean and clear of obstructions to operate effectively and to ensure no water infiltration into your home.
Vacuum soil and debris from the sill or track prior to washing.
Make sure that weep holes are clean of all debris, stucco, dirt or other blockage.
Use a soft bristle brush such as a toothbrush or paintbrush to clear weeps should they become clogged.
Use of an air compressor or can of compressed air can be used to remove debris from weeps.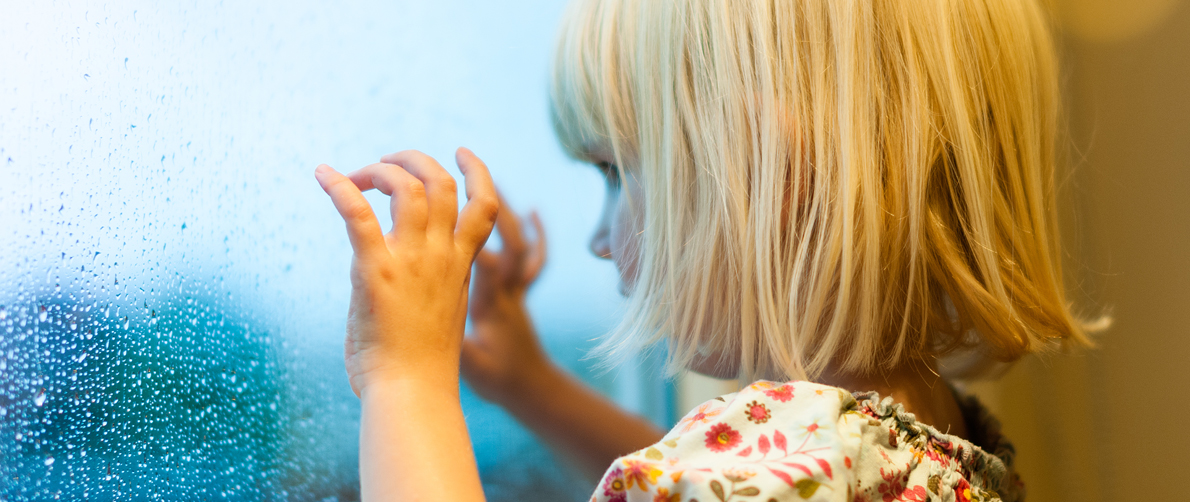 Interior Condensation
The interior of windows can encounter condensation due to high humidity levels and poor air flow in a home. High efficiency, high-performance windows are weather tight, but this also reduces air circulation.
In order to reduce the likelihood of window condensation, take these steps in your home:
Remove or reduce sources of moisture, such as aquariums, humidifiers and plants.
Run exhaust fans or open windows to improve air flow and ventilation, particularly when showering or cooking.
Allow air flow near windows. Raise interior blinds or shades a few inches above window sill.
Other Condensation Factors:
Window Screens: Windows with screens may have different condensation patterns than windows without, even in similar conditions.
Weather Conditions: Condensation can be heavily influenced by seasonal or nighttime weather conditions. In cold, winter months and in warm conditions as well, the glass temperature will often be above the dew point.
Outdoor Air Circulation: If a window is blocked by trees or bushes, other projections or structures, it may cause condensation. On the other hand, good air flow will reduce the likelihood of condensation.
Shades or Blinds: Keeping shades and blinds open can help reduce condensation as more heat can transfer to the glass, while also improving air flow to the window.
Exterior Condensation
Summer condensation occurs when the outside window surface is cooler than the dew point temperature of the outside air. This is a natural occurrence.
Find more information visit: www.aamanet.org/pages/understanding-indoor-condensation
Glass Breakage

If the glass in a Cascade window gets broken, consult your Cascade Window dealer for assistance. We recommend that glass panes be replaced by a professional to ensure continued thermal performance and to address safety issues.
Tempered Glass
Tempered glass can handle impact better than ordinary glass, but it can break. If a tempered glass pane is broken, it should be replaced by tempered glass in accordance with local building codes.
Difficulty Opening or Closing the Sash
If you experience difficulty in opening or closing the sash on Cascade casement or single-hung windows, first make sure that the lock handle is completely disengaged. By slightly turning the handle and applying pressure to the sash, the sash should open normally.
If this does not solve the problem, make sure that dirt or debris is not blocking the slider track. To remove any debris, clean the track with soapy water and a small brush (an old toothbrush works well.), or with a vacuum cleaner. After the track is clean, you may want to lubricate it with a dry silicone spray.
If the sash drags or hits the window frame, your window is out-of- square. Contact your Cascade Window dealer for assistance.
Window Coverings
Coverings installed too close to the glass can cause the glass to crack, the seal to fail, or develop excessive condensation on the glass. When installing blinds, leave a minimum of 2" clearance between the glass and shading device, and 1-1/2" clearance at the top and bottom or one side and bottom to allow natural air movement.
Climate and Condensation
If you live in a colder climate, warmer, more humid indoor air, compared to the temperature outside, can cause water droplets, frost and even ice to form on the inside of your windows.
More specifically, condensation occurs when the temperature of a surface – in this case, your windows – is less than its dew point temperature. The dew point temperature varies for every surface, and windows are more susceptible to condensation than other household surfaces because they tend to be the coldest part of a house. What's more, as the relative humidity (the amount of moisture in the air) of a room increases, the dew point temperature of surfaces increase as well.
For example, when the temperature of the glass in your window is 45˚F and its dew point temperature is 50˚F, the result is condensation. The condensation will only evaporate when the window temperature rises to about 50˚F. In addition to obscuring your view, condensation can also do visible and invisible damage to your home. Curtains, carpets, and even the windows themselves can be affected. The structure of your home can also be compromised as moisture may permeate your walls and insulation.
A Difference "U" Can See
The good news is not every window is the same. As you have learned, increasing the temperature of the glass above its dew point temperature will eliminate condensation. On a cold day, when you would normally be heating your house, it is important to decrease the transfer of that heat through the window.
This is known as the U-factor; the thermal transmittance of the window. The lower the window's U-factor rating – typically between 0.20 and 1.20 – the less warmth escapes your house, resulting in a decreased possibility of condensation forming.
The U-factor of any window product is actually determined by several factors, which work together to keep the glass condensation-free.
Your Three-tiered Solution
The windows in your home are made up of three essential parts, each one with the potential to eliminate condensation inside your home. All three must be thermally efficient to prevent heat from being conducted out:
Center-of-Glazing Multiple-glazed windows or insulating glass units are recommended over single-glazed windows for keeping condensation at bay. Additionally, energy-efficient and low-e coatings will further reduce the potential for condensation. Edge-Of-Glazing Condensation on the edge-of-glazing can likewise be reduced by choosing high performance dual-glazed or insulating glass units over single-glazed windows. Frame Thermally improved framing materials such as vinyl and wood, instead of metal framing systems, reduce the chance for condensation formation.